FAT WRECK CHORDS - Akustik-Compilation
Verfasst: 28. Juni 2016, 09:32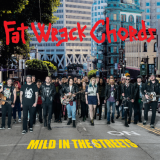 Mit "Mild In The Streets" veroeffentlicht das Punkrocklabel aus San Francisco am 1. Juli einen 17-Song starken Akustiksampler mit Beitraegen von u.a. NOFX (exklusive Orchesterversion von "The Decline"), MATT SKIBA oder den SWINGIN' UTTERS - darunter fuenf bis jetzt unveroeffentlichte Songs. Anbei gibt es bereits das Tracklisting sowie das Artwork zum Release.
"Mild In the Streets" Tracklisting:
Under the Garden – Tony Sly (No Use for a Name)
Fruitless Fortunes – Swingin' Utters
Everything Is Beautiful – Stacey Dee (Bad Cop/Bad Cop)
Heroinsomnia – Sam Sadowski (Closet Fiends)
Care of Me – Morning Glory
Guts 'n' Teeth – Old Man Markley
1 Trillion Dollars - Anti-Flag
State Is Burning – Yotam Ben Horin (Useless ID)
Continental – Matt Skiba (Alkaline Trio)
Must e M canique – Karina Denike (Dance Hall Crashers)
This One's for Johnny – Get Dead
We're Not in Love Anymore – Joey Cape (Lagwagon)
Hurtlin' – American Steel
Joy – Against Me!
Seven Hours – Russ Rankin (Good Riddance)
Xanadu – Uke Hunt (Spike Slawson of Me First
and the Gimme Gimmes)
NOFX's The Decline (A Punk Rock Symphony) –Baz and His Orchestra
http://www.fatwreck.com/